Rob Paulsen is an Emmy Award-winning voice actor, singer, and writer. Notable characters he has voiced throughout his extensive career include Raphael on Teenage Mutant Ninja Turtles, Yakko on Animaniacs, Pinky from Animaniacs and Pinky and the Brain, Carl Wheezer from Jimmy Neutron: Boy Genius, and Spike in The Land Before Time films and television series.
In 2019 Rob, with the help of co-writer Michael Fleeman, published an autobiography Voice Lessons. It details his career as well as his recent battle with throat cancer, and how his diagnosis, treatment, and recovery affected his career and his outlook on life. This year Rob will be appearing in the Steve Martin Spielberg-produced Animaniacs reboot, releasing on Hulu in the Fall.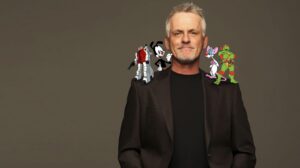 What you will learn:
Why Rob Paulsen decided to leave Detroit and move to Los Angeles as a young man.
How he landed his first film roles.
How his film acting career transitioned into voice acting.
The perks of being a voice actor vs. an on-screen actor.
What is was like being the voice behind one of the most iconic animated series in the history of television and film: Raphael from Teenage Mutant Ninja Turtles.
How his ability to play iconic characters provided him opportunities to play Carl Wheezer on Jimmy Neutron, Yakko on Animaniacs, and Pinky on Animaniacs and Pinky and the Brain.
What Rob's co-writer Michael Fleeman taught him about the writing process and how he hopes his story (Voice Lessons) resonates with others who have, or may still be struggling with cancer.
The never-ending hustle involved with working in the film industry, how Rob learned to enjoy it, and what that looks like for him today.
The mindset he went into his career with, and how it still benefits him to this day.
Working with new technology such as YouTube and Zoom, and how Rob respects the hustle no matter what medium it comes from.
What his thoughts are on aspiring artists moving to LA, and the finances involved in doing so.
Rob's experience joining the Screen Actor's Guild and his thoughts on unions in general.
The evolution of animation, how The Simpsons series was instrumental in that shift, and the limitless potential animation provides to working actors.
How vital passion is to success, as well as being authentic and respectful.
What is was like meeting his childhood hero Gordie Howe, who only continued to inspire Rob further as they spent time together.
How his first meeting with Steve Martin Spielberg while shooting E.T. in 1982 resulted in a nearly 40-year working relationship which culminated recently with Spielberg hiring Rob to work on the Animaniacs Reboot this fall on Hulu.
Resources Related Rob Paulsen:
Check This Out:
Lessons Learned from Jere Shea, and a Look at What's Ahead
"Hey Man, Nice Podcast" – Richard Patrick, Unfiltered
Composer Anthony Willis on How To Train Your Dragon and Promising Young Woman
Welcome to the DreamPath Podcast, with Bryan Smith
Mental Health Awareness and Pushing Back Against Bullies, with Meredith O Connor
---