After graduating from the prestigious SUNY Purchase Film School, Jessica Brunetto edited Michael Moore's Capitalism: A Love Story, and Sicko. She went on to become a highly sought-after editor on television comedies like  Comedy Central's Another Period, FX's Man Seeking Woman, American Vandal on Netflix, Do You Want To See A Dead Body with Rob Huebel, and  Broad City. She recently made her directorial debut with the narrative short Sisters, starring Sarah Burns and Mary Holland, which premiered at SXSW 2021.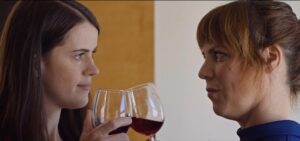 What you will learn:
How an experience in art class creating a collages inspired her to apply to film school;
Why she chose editing as her discipline within film initially;
What inspired her to write and direct her first film;
How she broke into the film industry as an editor;
How her background in editing trained her to create an efficient narrative, which helped her make tough decisions as a director;
The logistics of making movies on a limited budget; and
What the future holds for her as a filmmaker.
Resources Related Jessica Brunetto:
Check This Out:
Filmmaker Jeff Orlowski Chasing Ice, Coral, and the Perils of Social Media
Keith Thomas on Writing and Directing The Vigil, and Remaking Stephen King's Firestarter
From Milwaukee to Montreal to Moscow with Jeff Hamilton
RECAP: Takeaways from Jeff Hamilton, What's Ahead, and What is a Nasalrod?
RECAP – Niki Pilkington Takeaways, Keep Music Live, Dive Bar Memories, SXSW, and What's Next
---