Brian Knappenberger is a documentary filmmaker. His film Church and the Fourth Estate, about a sexual abuse scandal in Idaho that rocked the Boy Scouts of America and the Mormon Church, premiered at Sundance this year and. Joining Brian on this interview is the subject of the film, Adam Steed. Adam was one of the first sexual abuse survivors to report the abuse to the Boy Scouts and the Mormon Church, only to be rebuked. Brian's most recent documentary, The Trials of Gabriel Fernandez, is now streaming on Netflix.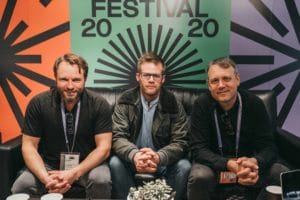 What you will learn:
How Brian met Adam Steed, the subject of Church and the Fourth Estate, through his investigation of a notorious Idaho billionaire.
How Adam's report of sexual abuse by a scout leader to church officials was swept under the rug.
How Brian was able to pull together all of the elements of the documentary while navigating a minefield of potential lawsuits and intimidation tactics utilized by institutions attempting to bury the truth.
How Brian's exposure to photography as a child helped him become a filmmaker.
How his career as a journalist segued into a career as a documentary filmmaker.
Why it's important to follow your vision of the film you want to make before you bring in investors.
How big budget films can corrupt a director's intended focus of a film.
How streaming services like Netflix have opened up creative opportunities for documentary filmmakers.
Resources Related Brian Knappenberger:
Check This Out:
Welcome to the DreamPath Podcast, with Bryan Smith
RECAP: Listener Reviews, Tracy Rector, What's Next, and More
Talking with Northwest Filmmaker and Storyteller, Tracy Rector
Filmmaker Jeff Orlowski Chasing Ice, Coral, and the Perils of Social Media
Storytelling Through Animation, with Filmmaker Florentine Grelier
RECAP: Takeaways from Dylan Neuwirth, Preview of Next Week's Episode
---