Nick Cassavetes is an actor, screenwriter, and director. The son of independent film pioneer John Cassavetes and Academy Award-nominated actress Gena Rowlands, Nick started his career as an actor but eventually settled into screenwriting and directing. He wrote the screenplay for the 2001 biopic Blow starring Johnny Depp, directed The Notebook starring Ryan Gosling and Rachel McAdams, and wrote and directed Alpha Dog starring Justin Timberlake, Emile Hirsch, Amanda Seyfried, and Chris Kinkade. Nick is attached to direct a biopic starring Anthony Hopkins and a crime drama starring Robert De Niro.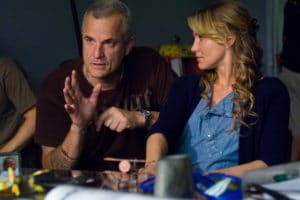 What you will learn:
What it was like growing up with two Academy Award-nominated parents who were trailblazers in the independent film world.
How his parents influenced him as an actor and filmmaker.
Why Nick initially chose basketball instead of acting after high school.
How Nick found his way back to acting and filmmaking.
How his dreams to become a great actor transitioned into screenwriting and directing.
How he got his first job as a screenwriter without knowing how to write a screenplay.
What it was like directing a film (She's So Lovely) written by his father, John Cassavetes, after his father passed away.
How he landed the role of Dietrich Hassler in Face/Off, starring Nicolas Cage and John Travolta, as well as the role of Tattoo Joe in The Hangover 2
What he looks for as a director when casting young, relatively unknown actors in his films, many of whom have gone on to become A-list stars like Ryan Gosling, Rachel McAdams, Amanda Seyfried, Justin Timberlake, and Emile Hirsch.
What actors he repeatedly casts in films because he knows they will make bad lines good, and good lines great, time and again.
How he was able to cast John Travolta in She's So Lovely with Sean Penn and Robin Wright.
Why The Notebook was not a box office success but eventually became hugely successful after leaving theaters.
What projects he's working on currently, including a biopic about Cus D'Amato starring Anthony Hopkins and a crime drama starring Robert De Niro.
Resources Related Nick Cassavetes:
Check This Out:
Coming to a Fork in the Road and Taking it, with Film Actor Nick Basta
Takeaways from Chris Kinkade, What's Next, and Farewell to a King
RECAP – Takeaways from David Frangioni, Pandemic Life, and What's Ahead
Songwriting, the Grammys, & Finding Your Groove with Hollis Wong-Wear
Episode #97: Castille Landon on Acting, Harvard, and Writing and Directing Fear Of Rain
---