Nick Basta is a television and film actor. His film credits include Harriet (nominated for 2 Oscars), about Harriet Tubman's escape from slavery, and The Glorias, a biopic about Gloria Steinem starring Julianne Moore, Alicia Vikander, and Janelle Monáe. The Glorias premiered at Sundance this year. His TV credits include a major role in Turn: Washington Spies, Season 3 of True Detective with Stephen Dorff and Mahershala Ali, and the upcoming D.C. Comics series Star Girl starring Luke Wilson.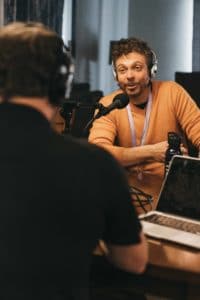 What you will learn:
How Nick Basta became a clay artist and musician before finding acting.
What educational track he pursued to become an actor.
How his parents influenced his artistic trajectory.
Where you should live for the best chance at becoming a working actor (you may be surprised by his answer).
What advice he has for actors who want to kick start their career.
Whether he prefers film vs. television, and why.
How playing a part "differently" during auditions can pay off.
How Nick Basta obtained the rights to the life story of Yogi Berra and wrote a screenplay based on his life.
How he's attempting to get his screenplay about Yogi Berra's life made into a film or television series.
Resources Related Nick Basta:
Check This Out:
Hollywood, Harps, and the Healing Hands of Chris Kinkade
From Sondheim to City On A Hill, with Jere Shea
Talking with Michael and Roger Fisher "Heart" Bandmates , Part One
RECAP Mai Leisz, Jim Haven, and Preview of Sundance Interviews
Episode #90: Actress Rebecca Metz on Shameless, Better Things, and the Joy of Working with Great Directors
---