Carlson Young is a television and film actor, screenwriter, and director, known for her roles on Scream: The TV Series, True Blood, and Key and Peele, among many others. She made her feature length directorial debut with The Blazing World, starring Dermont Mulroney, Vanessa Shaw, and Udo Kier, which premiered at Sundance this year. Isom Innis, from the multi-platinum selling band Foster The People, scored the film.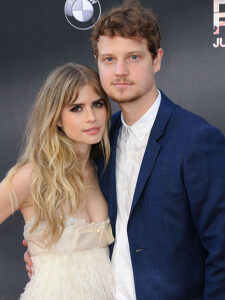 What you will learn:
The genesis of The Blazing World story and script.
How she was able to find inspiration from 17th century prose to create a fantasy world infused with horror elements.
What opportunities opened for Carlson after The Blazing World short film premiered at Sundance 2018, and what challenges remained as she developed the feature length version of that film.
How Carlson's personal curiosity and research about the effects of childhood trauma manifested in themes throughout The Blazing World.
What casting choices she made in The Blazing World and why.
The logistics of shooting an indie-film in a pandemic.
How the restrictions of shooting in a pandemic affected the shoot.
What it was like for Carlson and Isom to work so closely scoring their first feature film together.
What insights Isom gained from his experience as a multi-instrumentalist, producer, engineer, and performer and how that serves him well as a film composer.
How Carlson and Isom found hope and inspiration to keep creating despite the darkness of the pandemic which sometimes made creative endeavors seem futile.
What opportunities opened for Carlson after the premiere of The Blazing World feature at Sundance this year.
What projects Carlson is working on now.
Resources Related Carlson Young & Isom Innis:
Check This Out:
How to Tell a Good Story & Trajectory of Lives, with Bettina Gilois
Takeaways from David Frangioni, Pandemic Life, and What's Ahead
Creating the Look and Feel of a Film, with Production Designer Adri Siriwatt
Talking with Michael and Roger Fisher "Heart" Bandmates , Part Two
Andrea Sooch on Finding Meaning and Purpose Through Acting, Therapy, and Mindfulness
---